Celebrate your WKU graduate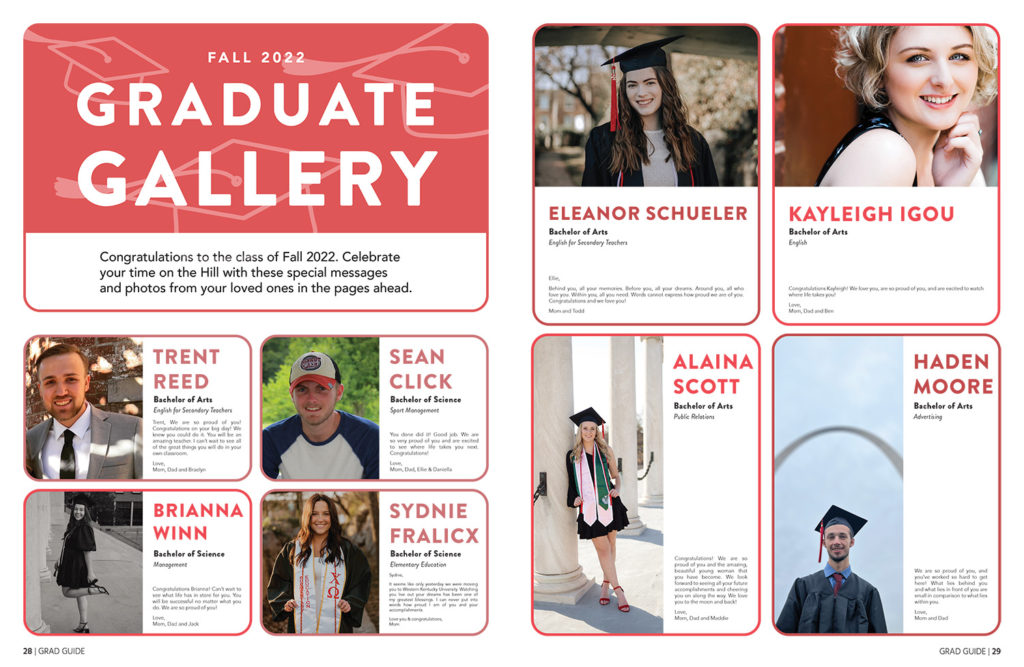 Graduation is a time to celebrate, and the WKU Graduate Gallery is a place to honor the hard work of this year's graduates.
Parents, celebrate your child with a message and photos from throughout their younger years. Seniors, celebrate your time on the Hill by sharing memories with your group of friends.
$60

Large print ad + online
$45

Small print ad + online
Pages in our printed graduation guide come in two sizes. A large print ad is approximately one-quarter of a page and has room for a 80-word message, and a small print ad is approximately one-eighth of a page and has room for a 35-word message. Print ads will include one photo, a message and the graduate's name. Large print ads will feature a larger photo than small print ads. Each order for a print ad includes having a copy of the graduation guide mailed to the address provided on the order form.
Each advertising option includes an online page on our WKU Graduate Gallery website. An online page includes up to 10 photos, plus your message and other features to make the page searchable as viewers browse the gallery. Online pages are easily printable and shareable on social media so that you can share the celebration far and wide.
Browse the pages in our gallery from previous semesters to get ideas for your custom page, or see last semester's graduation guide.
The spring 2023 graduation guide will be distributed on campus beginning May 1, and online pages will go live on the same date. Graduation guides will also be distributed during commencement ceremonies May 4 & 5.
The deadline to order a print ad is Sunday, April 16.
Photo submission tips:
For best quality, upload original, high resolution images. Images taken from social media or otherwise sized for web use may turn out pixelated.
Do not combine multiple photos into a collage.
Do not place text on photos.
Submit .jpg, .jpeg, .png or .heic photo files, not screenshots of photos.
If submitted a photo of which you only have the print copy, take a photo of it by laying it on a flat surface under even lighting. Fill the area seen in your camera fully with the print photo. Do not use a flash while taking the picture.
For questions or issues ordering, please contact Cherry Creative adviser Sam Oldenburg at [email protected] or 270-745-3055.